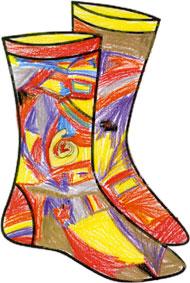 Joining forces with popular parenting website, My Child, Carnation Footcare organised a competition to get kids to think about feet by creating their very own, exciting Silversock design.
Children up and down the country submitted their creative designs to win a variety of fantastic prizes, including a Carnation Footcare set for all the family, an art set, a Happy Feet DVD and a foot printing kit – and, of course, a supply of Silversocks!
And our winner is: Katie from Lincolnshire! Congratulations to Katie, who's winning design is shown left.
Our fantastic runners up, who will all receive a Happy Feet DVD and a pair of Silversocks are:
by Bronte from Castleford
by Holly from Winchester
by Annalise from Bristol